Dr Martin Dobson has been acting as an arboricultural expert witness on subsidence for seventeen years and has worked for most major firms of solicitors acting in the field of property damage caused by trees. Evidence given in his first court appearance as a tree expert witness in 1997 in the matter of Marson v Turnpike Hill Trust was instrumental in securing a successful claim for tree root nuisance in the County Court. He has subsequently completed hundreds of CPR 35 compliant expert witness reports for claimants and defendants and has given oral evidence regularly in the Lands Tribunal, County Court and High Court.
Cases successfully taken to judgement include:
'The claimant's expert arboriculturist, Dr Martin Dobson, prepared a careful and detailed report… He dealt with his questioning well and with due regard to his duty as an expert'
Judge Bailey, Central London County Court, in Raphael v L.B. Brent
'The claimant's expert arboriculturist (was) Dr Dobson whose careful, authoritative and considered evidence I preferred'

HH Judge Thornton QC, High Court in Malewski v L.B. Ealing
'I prefer the evidence of Dr Dobson'
The Hon Mr Justice Ramsay, High Court, in Khan v Harrow and Kane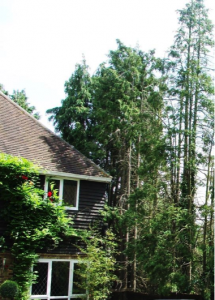 Dr Dobson successfully argued on behalf of the claimant in Khan v Harrow and Kane that a reasonable person in the position the Defendant would have known that a line of 10 m tall Cypresses just 0.5 m away from the flank wall of a property on shrinkable clay soil (see photo) would pose a 'real' risk of damage.
Martin has been assessed by examination for membership of the Expert Witness Institute.